MVMPCS THRIVES WITH AN INVOLVED AND SUPPORTIVE COMMUNITY. 
Every family and every member of our staff are part of a community dedicated to educational choice, to our children, and to the future of our school.
MVMPCS provides a specialized Montessori education featuring multi-age classrooms, hands-on materials, and an innovative peace curriculum.
We do this with less funding per student than other FCPS public schools, and no funding for facilities. For perspective, MVMPCS receives approximately 25% less PPA (per pupil allotment) than other schools, and will receive none of the $78,361,181 that FCPS has slated for facility maintenance and improvements this year.
Giving is not just about making a donation.
It is about making a difference.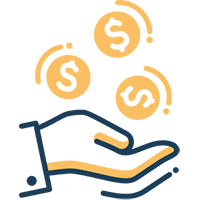 MVMPCS relies on monetary donations to bridge our funding gap. This year, we aim to raise $20,000 through direct donations and fundraisers.  The suggested annual donation is $250 per household ($150 per single parent/guardian household).
Join us, and make your tax deductible
donation today, to ensure
MVM thrives!
Each year, MVMPCS launches an Annual Fund Campaign with the goal of reaching 100% of our community members.  Your donation is an investment in the current and future needs of our school, supporting our operations and facilities costs, training and certifications for staff, Montessori materials and enrichment programs, and funding for a permanent home for our Meerkat community.
In a typical school year, our Annual Fund is our primary fundraising effort.  It is especially important that we have 100% participation in our Annual Fund in the 2020-21 school year, as we are unable to hold most of our regular in-person fundraisers, such as events and sales.
Direct donations, workplace giving programs, and grants all have the potential to generate meaningful and vital support for our school. 100%  participation ensures that MVM thrives by showing grantors the commitment made by our involved and supportive community. 
Choose the donation level and method that works best for your family, and join us in pledging your support for MVMPCS!

CHOOSE YOUR DONATION LEVEL:
Make a One-time, or
recurring Monthly donation.
Donate Online
Go to mvmpcs.org/donate.
Mail Your Donation
Mail your check, made out to MMCI, to:
Monocacy Montessori Communities, Inc.
PO Box 1817
Frederick, MD 21702
Please note MVMPCS in the memo line.
Workplace Giving
Check with your employer for corporate matching programs or nonprofit grants.
With an involved and supportive community,
MVM Thrives!
Our Goal is 100% Participation.