#GivingTuesday is a global movement for generosity. It's all about 
making a difference
, and that's exactly what your donation does at MVMPCS.

Make a plan to give, share on social media, and join the movement on Tuesday, November 30.
Choose the donation level that works best for your family, and pledge your support for MVMPCS! 
Any amount helps get us to our goal of 100% participation!
Every family and every member of our staff are part of a community dedicated to educational choice, to our children, and to the future of our school.
Every donation is an investment in the current and future needs of our school, supporting our operations and facilities costs, training and certifications for staff, Montessori materials and enrichment programs, and funding for a permanent home for our Meerkat community.
Donate Online
Go to mvmpcs.org/donate.
Mail Your Donation
Mail your check, made out to MMCI, to:
Monocacy Montessori Communities, Inc.
PO Box 1817
Frederick, MD 21702
Please note MVMPCS in the memo line. 
Workplace Giving
Check with your employer for corporate matching programs or nonprofit grants.
Share on Social Media
Share why you give with a post, tweet, or image. Share #GivingTuesday posts from MVM's social media. Use #GivingTuesday #WEAREMVM
Create a Facebook Fundraiser
Double your impact on #GivingTuesday with a Facebook Fundraiser! See below for instructions.  Facebook/Meta will match up to 8 million dollars in qualifying donations made on Tuesday, November 30. Terms apply.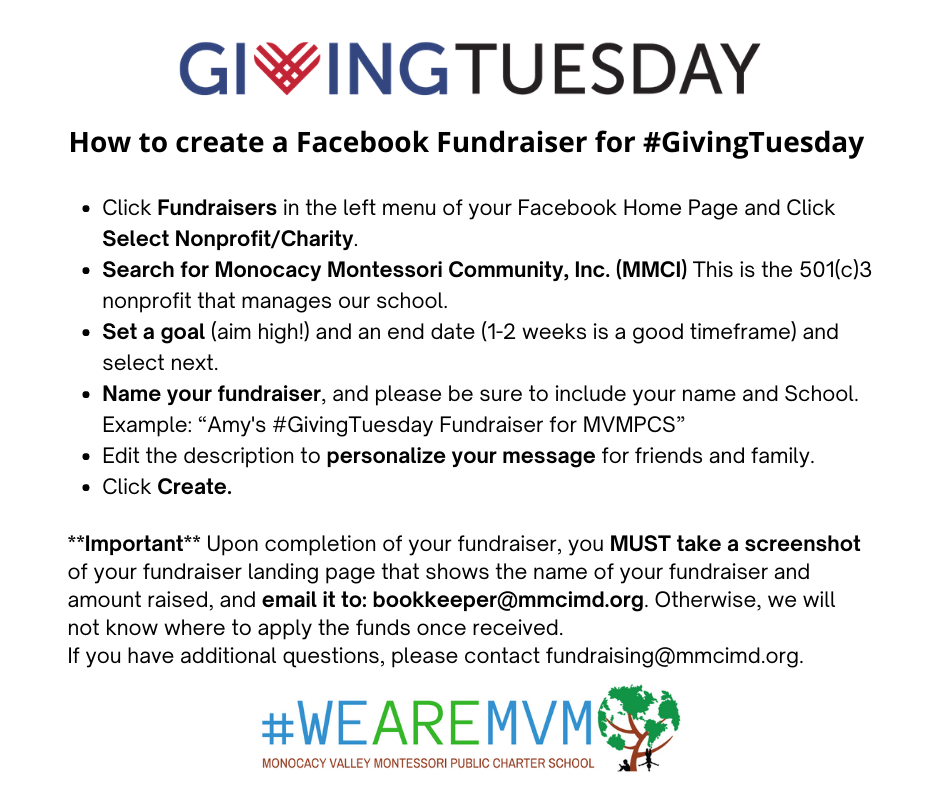 Giving is not just about making a donation.
It is about making a difference.

With an involved and supportive community,
MVM Thrives!
Our Goal is 100% Participation.